Welcome to the Pantheon of Tenacity store!
Buy here!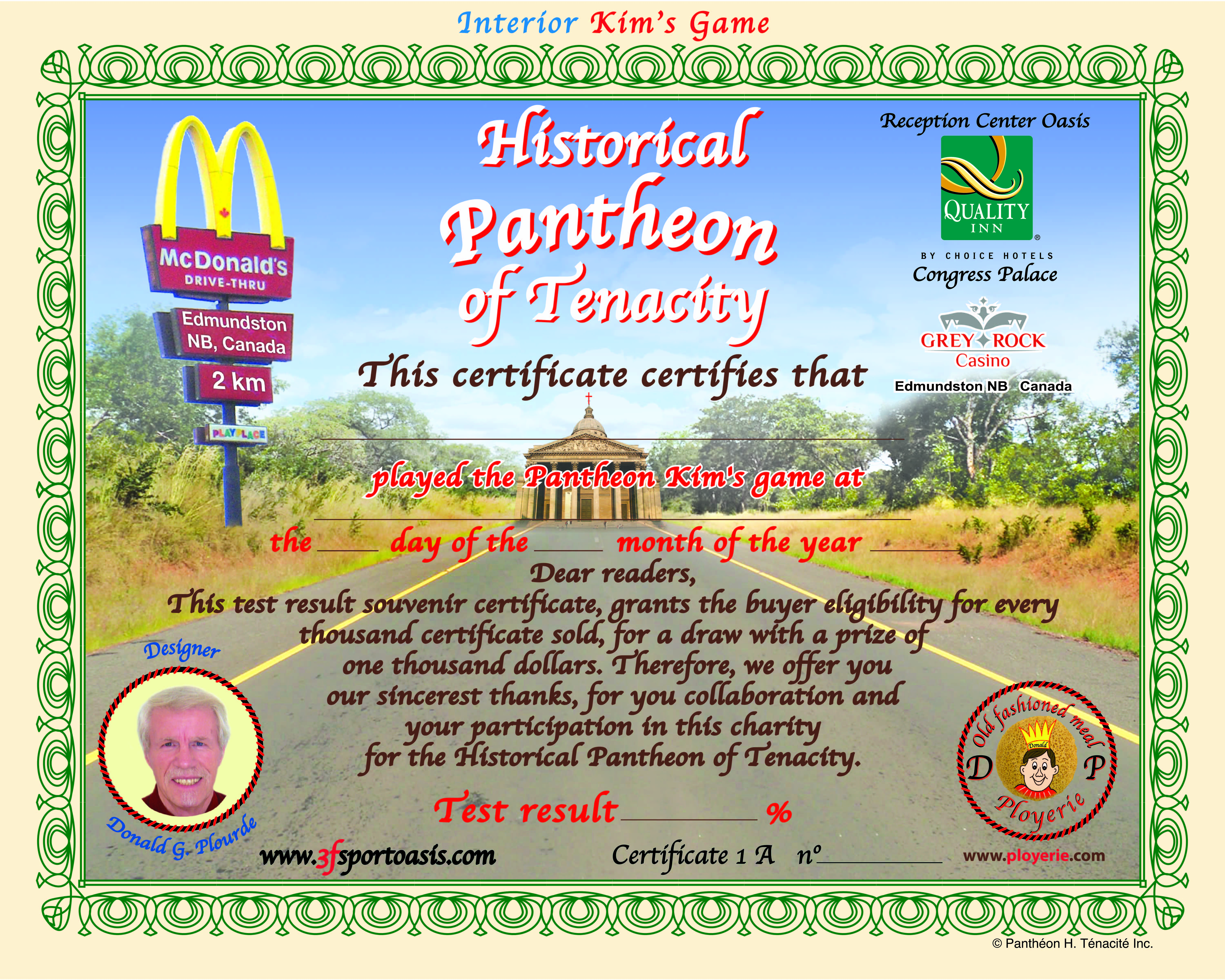 Interior Kim's Game Certificates
I would like to inform you that all the certificates from the shop as well as the ones from the Back Store, are part of the draw, for each thousand cerificate sold, as explained on the Home page,
Interior
Kim's game, in the 3rd paragraph.
If you would like to encourage the individuals, foundations and associations listed below, it is possible to order larger certificates 13 x 16 inches (33.02 cm X 40.64 cm), framed and laminated, for the price of 225 $. We will then send a certain amount per sold certificate every 3 months to the following people, organizations and foundations: so, $ 50 to the Alzheimer's Research Foundation; $ 50 to the Children's Wish Foundation of Canada; $ 50 to the Terry Fox Canadian Foundation; 50 $ to the Bob Fife Foundation of Edmundston; Martin Luther, 50 $ to World Vision; Alexander Fleming, 50 $ to Doctors Without Borders; Nelson Mandela, 50 $ to the Nelson Mandela Foundation; 50 $ to the Mother Theresa of Calcutta Foundation; Alexander Graham Bell, 50 $ to the Quebec Salvation Army; However, however, the one for Ray Kroc, $ 50 goes to the Village des sources ResMaVic Inc. of Edmundston, an open-air base for the education of young people, salutary for a better development of life.
It should be noted that any purchase of a certificate from the shop includes paid shipping.
Exterior Kim's Game result certificate